5 Best Immune Boosting Recipes by Mealthy
"Let food be thy medicine, and let medicine be thy food" has stood the test of time. Resist this viral season like a boss with the amazing healing and restorative recipes packed with essential nutrition.
Here are some immune boosting recipes all ready to kick goodbye to sickness:
1. Masala Oats Idli – Spoon Fork and Food
Prep Time: 15 minutes Cook Time: 20 minutes Servings: 16 Idlis
Oats are gluten-free whole grain and a great source of important vitamins, minerals, fiber and antioxidants. They are higher in protein and fats than most other grains.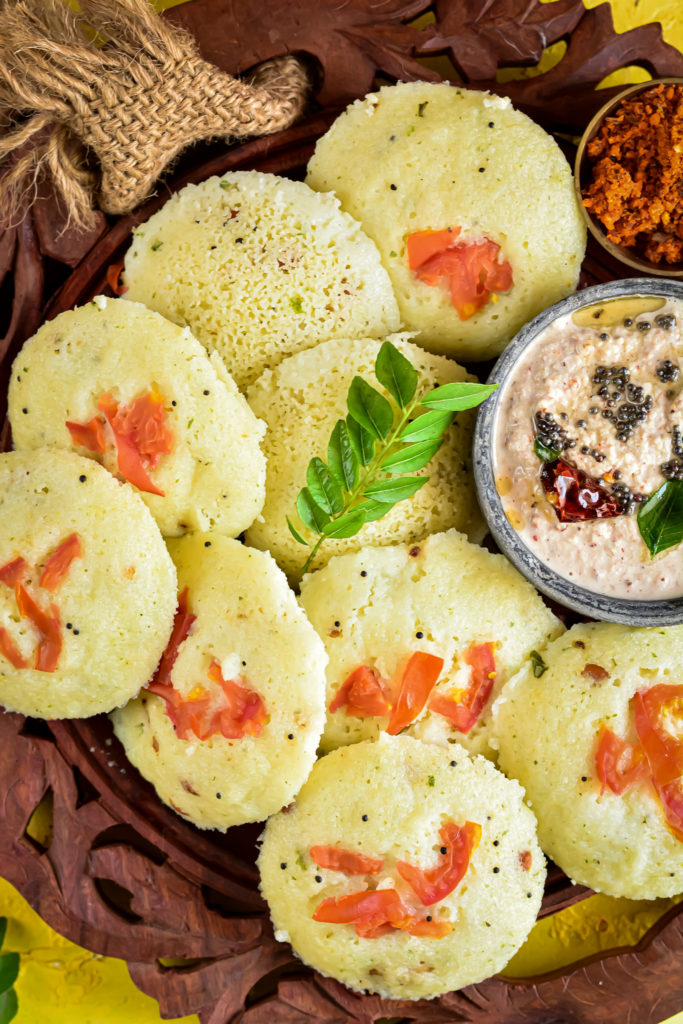 Method:
1. Grind 1 cup rolled oats to make a powder and keep aside.
2. Heat 2 tsp oil in the Multipot and add 1 tsp mustard seeds, ½ tsp hing, 1 tsp chana dal and 1 tsp urad dal. Saute until golden and then add 1 tsp chopped ginger and 1-2 green chilis and saute for another 2 mins.
3. Now add ½ tsp turmeric powder and give a nice mix. Add in ¾ cup sooji and saute until golden in color.
4. Now add the oats powder and mix with sooji. Saute for another 2-3 mins and turn off the pot.
5. Empty the mix in a bowl and keep aside to cool.
6. Now add 2 tbsp. finely chopped coriander, 1 chopped curry leaf, ½ tsp black pepper powder, salt as per taste and mix well with a spoon.
7. Now add 1 cup yogurt or thick plain curd to the dry mix and combine. Keep aside to rest for 5 mins.
8. The batter will rise and will become thick. Add little water if needed and combine to make batter.
9. Now add ½ cup of water in the Multipot and heat. Meanwhile grease the Idli molds with oil or ghee and pour spoonful of batter into each section.
10. Once the water is hot, carefully place the Idli stand in the pot and close the lid. Set the vent on seal and pressure cook for 15 mins. Release pressure manually and carefully open lid.
11. Take out the Idli stand and slide the Idlis out from the mold. Serve hot with coconut peanut chutney and podi.
2. Oats Kheer (Sweetened Oatmeal with Cardamom, Nuts & Raisins) – Piping Pot Curry
Prep Time: 5 minutes Cook Time: 20 minutes Servings: 4
Oats help in reducing cholesterol, blood sugar levels, promote healthy bacteria and increases the feeling of fullness. Raisins help to aid digestion, boost iron levels, and keep your bones strong.
Method:
1. Sanitize the instant pot thoroughly by cleaning all the parts.
2. Heat the MultiPot in saute mode. Add 1 tbsp ghee and let it melt.
3. Add 1 cup of rolled oats. Stir and saute for 2 minutes until to get the aroma of roasted oats.
4. Add 2 cups of milk, 1 cup water, 3 tbsp sugar, 1 pinch saffron and ½ tbsp cardamom. Press Cancel and close the lid with vent in sealing position.
5. Set to manual or pressure cook mode at high pressure for 1 minute. When the cooking time is done, then let the pressure release naturally.
6. Open the lid and stir the kheer. This kheer thickens as it cools.
7. Garnish with more saffron, roasted and sliced nuts and raisins to your liking. This Oats Kheer is delicious served hot or chilled.
3. Vegetable Quinoa Pulau – Team Mealthy
Prep Time: 15 mins Cook Time: 6 mins Servings: 6
Quinoa is known to improve metabolic health, by reducing blood sugar, insulin, triglyceride levels. It is high in antioxidants that help to neutralize free radicals and also help in fighting aging and many diseases.
Method:
1. Heat 1 ½ tbsp olive oil in inner steel pot of pressure cooker set to Sauté on Normal. Cook and stir 1 ½ tbsp fresh minced ginger in oil until fragrant for about 1 minute; add 1 ½ cups onions and cook until translucent for about 2 minutes.
2. Stir 1 ½ cups frozen corn kernels, 1 ½ cup chopped carrots, 1 1/2 cups chopped mushrooms, and 1 1/2 cups chopped red bell pepper with the onion mixture; continue cooking for 1 minute. 3. Season vegetables with 1 ½ tbsp chili powder, 2 tsp cumin, 1 ½ tsp garam masala, and ¾ tsp turmeric powder; cook until fragrant for about 1 minute.
4. Pour ¼ cup water into the pan to deglaze; cook while stirring with a wooden spoon to scrape the browned bits from the bottom.
Press Cancel.
5. Stir 1 ½ cups quinoa and remaining water with the vegetables.
6. Lock the pressure cooker lid in place and the set steam vent to Sealing. Select Pressure Cook (Manual) and cook for 1 minute on High Pressure. Let pressure release naturally.
7. Sprinkle 1 ½ tbsp lemon juice over the quinoa and fluff with a fork; divide into bowls and garnish with cilantro to serve.
Golden Lentil – Team Mealthy
Prep Time: 10 mins Cook Time: 7 mins Servings: 6
Lentils are high in fiber which support regular bowel movements and the growth of healthy gut bacteria. Lentils contain phytochemicals which may help protect against chronic diseases such as heart diseases and diabetes.
Method:
1. Heat 2 tbsp oil in inner steel pot of pressure cooker set to Sauté on Normal.
2. Sauté 1 red jalapeño pepper, 4 cloves minced garlic, 1-inch fresh ginger, 1 tbsp cumin seeds, 1 tbsp coriander seeds, 1 tsp turmeric, and ¼ tsp cayenne pepper in hot oil until seeds are fragrant and start popping for 2 to 3 minutes.
3. Stir 3 cups water, 1 ½ cup lentils, and 1 diced tomato into the jalapeño pepper mixture.
4. Lock pressure cooker lid in place and set the steam vent handle to Sealing. Select Pressure Cook (Manual) and cook on High Pressure for 5 minutes. Let the pressure release naturally for at least 10 minutes, then the set steam vent handle to Venting to quick-release remaining pressure.
Vigorously stir ¼ cup lemon juice with lentils to create a creamy consistency; season with salt.
Slow Cooker Chai Spiced Oatmeal - Team Mealthy
Ready in: 6 hrs. 5 mins
Spices make food tastier while boosting your health. They help to fight inflammation and reduce damage to your body's cells, this is because it is rich in phytochemicals, a healthy plant compound.
Method:
1. Prepare the crock of a slow cooker with cooking spray.
2. Blend 3 ½ cups of plain non-dairy milk and ½ cup raw cashews in a blender until smooth; pour into the prepared slow cooker. Alternately, put the ingredients into the crock and blend with an immersion blender until smooth.
3. Stir 1 cup steel-cut oats, ½ tsp salt, ¼ cup maple syrup, 1 tsp black tea leaves, 1 ½ tsp ginger, 1 ¼ tsp cinnamon, ¼ tsp ground cloves, ¼ tsp ground allspice, and ¼ tsp ground cardamom with the cashew-milk mixture.
4. Cook on Low for 6 hours.
5. Stir 1 tsp vanilla extract through the oatmeal to serve.
---